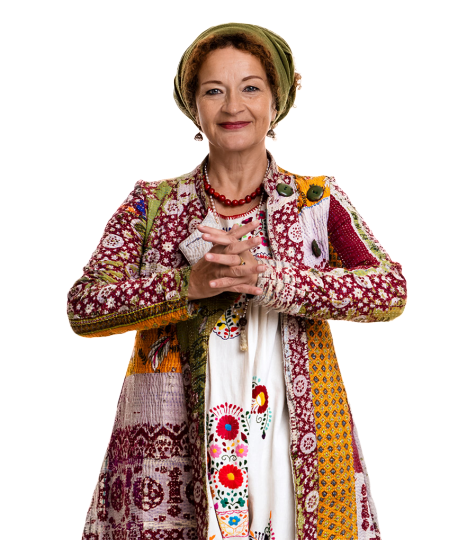 Cordula Böhm
Impulsgeberin, Coach, Mentorin, Grossmutter, Yogini
Nomen est omen: The Latin root of my first name "core" refers to the heart, the core, as well as "courage".
The courage to move around to find my essence seems to have been put in my cradle.
This path led me away from the former GDR,
has made me the mother of a wonderful daughter
took me on many journeys through the Middle East, North Africa, India and Nepal, several years in Switzerland, finally in Palestine and now living and learning independent of location.
What sounds easy gave me wonderful experiences, but also guided me like many modern people, through the low points of depression and burnout: as a young single mother, as a teacher with the feeling of not being good enough, in complicated relationships that reflected my lack of self-worth, in life situations that did not suit me.
I began to study Eastern wisdom, Buddhism, yoga philosophy, as well as modern authors in the field of mental health, happiness research and self-help. My most healing companions became yoga and meditation.
Meanwhile, even as a proud grandmother, I am open to change, learning and searching. I love colorful fabrics, carpets and embroidery as much as the fabric of life with its diverse patterns, colors and unevenness.
I have experienced that courageous decisions and consciously designed changes based on an inner compass definitely make life colorful, meaningful and exciting. 
Darin möchte ich dich und andere Frauen unterstützen.
As a coach and mentor, I enjoy guiding women through crises, blockages and conflicts that can bring about healing turnarounds.
I am convinced that in today's situation it is more important than ever for women to develop their potential and make an impact on society.
With my professional background as a
Teacher for German and Art

Pedagogue (MA)

Systemic coach, supervisor, organizational developer

Teacher of Kundalini Yoga and Meditation
I follow a holistic approach that includes professional methods from systemic coaching, intuition, yoga, meditation and relaxation techniques and is individually tailored to your needs.
Convinced that the solution to your life issues lies within yourself, I respect your personality, your values and your capacity to move TO THE CORE.
WACHSTUM
COACHING TO THE CORE strebt an
Veränderungsprozesse und Lebensübergänge für Menschen als Quelle von Wachstum und Lebensfreude fruchtbar zu machen.
KREATIVITÄT
COACHING TO THE CORE steht für
lustvolles, spielerisches Bewegen und Wecken der jedem Menschen innewohnenden Entwicklungsmöglichkeiten auf der Ebene von Körper, Seele und Geist.
VERLÄSSLICHKEIT UND VERTRAUEN
COACHING TO THE CORE steht für einen geschützten Raum der persönlichen Entwicklung. Alle Termine und Abmachungen sind verbindlich und zuverlässig.
MUT
COACHING TO THE CORE baut auf
deine Bereitschaft, Verantwortung für dein Leben zu übernehmen und dabei Unsicherheit und Verletzbarkeit in Kauf zu nehmen um zu Lösungen zu kommen.
SPIRITUALITÄT
COACHING TO THE CORE geht davon aus
dass wir als Menschen mit allem Lebendigen vernetzt und mit einer höheren Weisheit verbunden sind.
DIVERSITÄT
COACHING TO THE CORE feiert die Einzigartigkeit eines jeden Menschen. Sie zu entdecken, wertzuschätzen und vollumfänglich zu leben ist ein Geschenk für die Welt.
cordula böhm
TO THE CORE
online coaching
AS YOUR COACH
I accompany and support you in changes and life transitions on your way to a powerful colorful life.